WELCOME TO EAST PHYSICAL EDUCATION!
The East physical education team works very hard at establishing a safe, fun, and respectful learning environment where students are challenged to grow physically, mentally, emotionally, and socially while being encouraged to show HEART (Helpfulness, Respect, Acceptance, Respect, Teamwork) and to ROAR (Respect Others Act Responsible) like East Beasts. We provide students with many opportunities to develop motor skills, physical fitness, self-confidence, and the knowledge to be physically active throughout their lives.
Our program is geared toward progressively building skills where instruction is differentiated across grade levels and building the whole child is our focus. Students are given many opportunities to explore, discover, and express themselves through various cooperative activities, lead-up sport games, goal setting, and physical fitness challenges.
Regardless of what unit is being taught teamwork, sportsmanship, and trying one's best is always at the forefront of everything we do. Health and wellness concepts along with safety discussions are consistently integrated into our lessons to help promote healthy habits.
We want the East community to know our door is always open to listen to any concerns you may have and to make our program the very best. We care deeply about getting all students to feel included in the class and to have them achieve their full potential as active learners.
Mr. Brooks & Mr. Monahan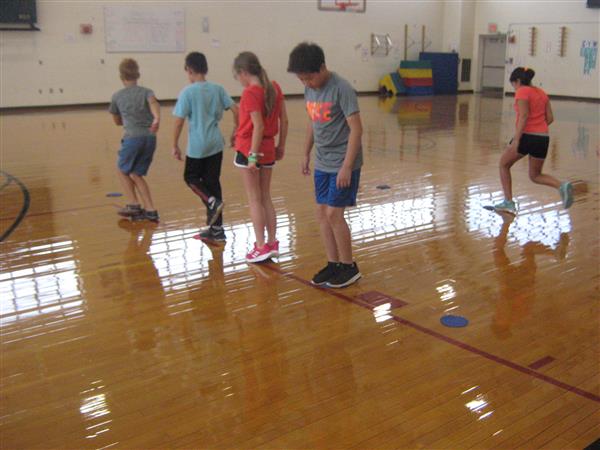 ACTIVITY VIDEOS FROM MR. BROOKS and MR. MONAHAN
East Physical Education Units of Instruction
2023-2024
September: 
Introduction to PE: expectations, rules, class routines, safety/emergency information
Movement Exploration - locomotor movements, spacial awareness, boundaries, body control, speed, direction
Cooperative team building challenges to build community, teamwork, cooperation, and to understand others differences
Tag / pursuit games
Fitness- head to toe stretching, today's 10 weekly workout, jogging / power walking
Playground use & safety 
October:
Soccer skills development and small games
November:
Throwing, rolling, and catching activities & small games (multi-ball, ultimate football, Tchoukball, bowling)
December
Fitness assessments, movement, & manipulative challenges in a station format
Cooperative team building challenges # 2
January:
Basketball skills development and small games
February:
Rhythmic Activities – single jump rope, hula-hoop, long rope, Chinese rope, twirl & jumps, skip it's, parachute, and dance patterns
March:
Volleyball skills development and small games
Nitro ball 
April:
Racket Challenges - badminton, speedminton, pickleball, and tennis
May:
Frisbee Activities - frisbee golf, ultimate frisbee
June:
Backyard Games – bocce ball, 4-square, spike ball, horseshoes, corn hole, ladder ball, and ring toss
Field Day Prep
"If you don't take care of your body, where are you going to live?"
"Remember to always do your personal best. Challenge yourself, not others"
"Don't ever give up! One day you'll look back and be glad you didn't"
"Fitness is not a destination, it's a lifelong journey"
"If it doesn't challenge you, it won't change you"
Sorry, but there was nothing found. Please try different filters.